Hello friends! I hope you've been well! Apologies for the radio silence on the blog. I have been working on my house transformation and the process has been really slow. I have been so ashamed of my lack of progress, I haven't wanted to post, but my dedication and optimism has not changed. Decorating a home is a journey. I was just hoping this would be more of a quick trip to San Diego vs. a 15 hour plane ride to Africa (with a layover in London), followed by a bus ride through the bush, a ferry down a river and climb up Mt. Kilimanjaro to get to the top. Right now, it's more of the ferry ride down the tropical river but (fingers crossed) base camp is almost in sight!
And like any experienced journey woman, the diary and pictures are an important part of the fun. So here is where I am with the journey:
SHOPPING
The biggest portion of the journey has been spending a lot of dough. I'm talking soul crushing, leave your extremities tingling, crazy spending. This is always the most interesting part, too. I love challenging myself on finding the best thing out there and then getting it at a good price. Luckily, Americans love their holidays and their holiday SALES. Here are some of my sales splurges:
God, I am one crazy lady! However, I like what I like and these were the least expensive choices of my top picks (paintings can go for $25K or more on Saatchi). And I had a theme: green, deep saturated color, humor, and crazy. Believe it or not, these works of art really represent how I feel on the inside. When I close my eyes, I am one ball of entangled joy mixed with a bit of danger and neon. I also realize I have a thing with circles. It's probably one of my favorite shapes, if one can have a favorite shape. Any chance I get more circles in my life, I take it. The piece on the far right is by far the furthest from my typical taste but I just loved its optimism. It looks like a child did it only its huge so a child COULDN'T have done it. I want that big guy waving "hi" to me every day, and he shall. That piece was only $200 despite its size. And yes it's very crazy.
Speaking of size, all of these pieces are at least 36" on the longest. The "Green Bodies" is a whopping 60"! It's not like I didn't have large pieces before ("Such Good Friends is 63" tall) but I wanted to balance out my collection with more green and red. Luckily, since I bought all of these on sale, that saved room for the (dunh dunh dunh) FRAMING.
Framing, my friends, is a necessary expense that will never EVER be cheap. Especially with oversized pieces. Be prepared when framing a 54"x63" work that it will often cost more than the art itself.
Another expense? Rugs. I didn't really expect to buy these rugs, but my rug situation was a little lacking. In comes Etsy and Chairish and these two beauties.
A little note about buying rugs online: beware. Quality issues aside (always buy from a trusted, well reviewed vendor) but NEVER EVER trust pictures, descriptions and seller opinions on color. When you buy a rug online, you're putting your trust in the seller to be accurate and they almost never are. So be prepared to either live with the consequences of a misjudged color comparison and always check your computer display settings. Case in point, those two rugs up there. The seller claimed the purple -- yes, purple - rug on the right was actually pink and the blue criss crosses were "green". Not so, my friend. However, I knew going in that not all of the rug would show and I was interested in the more pink and less blue part to show from under the sofa. The peach/pink and kelly green rug would be the STAR. But still, be very very wary. That is why I always advocate for buying things in person. Do not even rely on swatches. Swatches are a poor way of testing out a color. There is no way your eye or mind can possibly comprehend the impact of lot of color vs. just a little. Fortunately, I love color and mismatch and juxtaposition. BEWARE.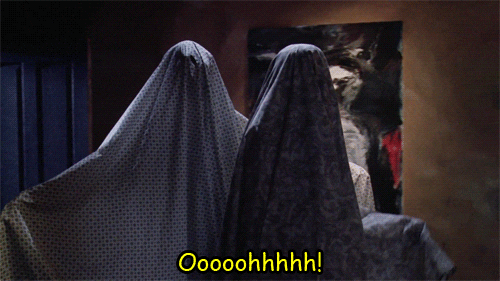 Where does it all go?
That's the question I've been asking myself a lot lately -- and not just when it comes to interior design. The summer is halfway over! But really, WHERE DOES ALL THIS STUFF GO?! Don't get me wrong. I had plans. When I buy a piece, I always buy with a purpose but then stuff changes. Sofas move, rugs relocate, etc. So paintings rotate from room to room faster than I change my diet. Which is a lot.
Here was the original plan for the TV room:
Then a few things changed. Number 1: the wallpaper. I loved the cartoonish nature of the Hygge and West design, but my husband absolutely HATED the yellow. I wanted to keep the yellow, but started searching for other designs that incorporated other colors:
The Aimee Wilder Floral Canary is incredible. Its lively, its earthy, its just right for a big and bright TV room next to the kitchen. And in theory, it worked well with this couch:
But - and this is a big Jennifer Lopez sized but - it just felt too precious and too bright. I know what you're thinking... the lady who bought this:
Thinks this is too bright? Yes. Too bright. And then there was another issue.
The configuration of the brown couch (a different one) in the living room no longer worked with the huge piece of artwork (more on that later) above it. Luckily, the living room couch is a rich chocolaty brown.
So now I have this in the TV room:
Ahhhhh... sigh of relief. Not only because I figured out a problem, but because I feel like the colors play together much more nicely. The brown allows the colors to meld together in an organic way vs. bringing in another black and white element and plays into my whole "revisionist 70s" mode. But now I face the issue of which artwork will go where. In order to combat this particular aspect of design paralysis, I'm putting a "pause" on the art placement for now.
I love pairing deep, rich moody colors with bright, almost neon colors. But I also need a place for my eye to rest. I will only now when all the walls and paint and everything is done. For inspiration, see these rooms:
My biggest advice to anyone attempting to redecorate on their own: it's ok to change your mind. It helps to be open-minded as well and risk the danger of pairing non-matching colors to create a more dynamic palette. Not everything has to match, but they do have to play together. If you feel like your room is getting too crazy bright colorful, bring it down a few notches with a muddy, rich and fatty color. Similarly, if things are getting too muddy and down-trodden, bring in some acid. Its like the interior design equivalent of Thai cuisine: Sweet, Sour, Salty, Creamy, Spicy, Bitter.
Speaking of bitter....
"That's a serious sign" Ashton, my trusty wallpaper guy, exclaimed. The Popular Sign... AKA the ultimate crazy purchase to date. It's about 500lbs of neon fun, hoisted and anchored to my 20 foot ceiling in the living room. What inspired me to purchase such a sign? I liked it. No actually, I wanted to make a statement and immediately create a larger than life party atmosphere that doesn't take itself too seriously. It's not for the faint of heart and small of wallet. The sign itself was a deal. It was everything else that came afterward that was heart-stoppingly expensive. We had to reinforce the wall behind, get guys to hoist it up on the scaffolding, and then poor, poor Ashton needed to wallpaper behind it AFTER it was installed (long story).
I compare the purchase of such a thing like getting breast implants. At first, you get it because you want to improve your appearance. It seems harmless enough. And then when everyone and their mother (especially MEN because like fake boobs, men are attracted to huge industrial objects) reacts, you might get a little self-conscious. In other words, you get what you ask for. I can either show them off or immediately regret the attention I'm getting. Just being honest. I look around and most designers are not crazy/stupid enough to purchase a giant neon sign. But goddamned its fun to throw on the light and break the proverbial ice with a conversation piece like no other. I could ask my audience if they think its crazy, but I actually don't care to hear the answer. Because, like this article in Lonny states (after googling "Did I go too far with my interior design??????"), the worst design mistake I can make is Second Guessing my Vibes. I will only do this ONCE and by god, I will enjoy the ride.
Some people enjoy crazy. About once a day, I dance to disco in leopard print spandex while hiking a nearby mountain, lay face up on a bench at the very top and stare into the endless blue sky. To be honest, I call myself crazy because I that's how I believe people see me so I try to beat them to the punch. I so desperately would love to be a quiet minimalist, comfortable with a very coordinated, subtle and adult sense of style. But that's not me. Maybe I should just stop calling myself "crazy" and just call myself "alive".